CLiC-iT wins the IAPA prize for Best New Product
February 24 2017
CLiC-iT, the belay system we use and sell at Adrenalin Forest, has recently won an international award.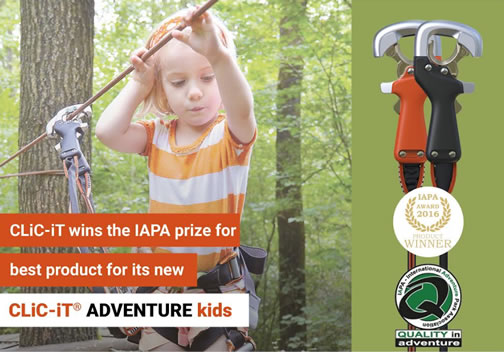 We already knew that CLiC-iT was an awesome product. That's why we use it in all our high ropes adventure parks - Tauranga, Wellington and Christchurch. It's also the reason why we are the sole supplier for CLiC-iT in New Zealand.
IAPA (International Adventure Park Association) runs an innovation award. In 2016 CLiC-iT's 'Adventure Kids', the safe belay system for kids, took out the 'Top Product' category.
The Top Products award is for is for sustainability, and should offer a benefit for the practice. It also need to add profitability, increase of security, increase of commercial efficiency, eco-credentials and improvement of operating conditions in adventure parks. We have found all of these things to be true of CLiC-iT at our adventure parks, is why we are so keen to supply CLiC-iT Pro for Businesses that work at heights.
If you would like to find out more about CLiC-iT Pro for your business, read more here or download the brochure below.