Bay of Plenty Rugby at Adrenalin Forest
May 26 2017
Early in May Adrenalin Forest Tauranga had a visit from the Bay of Plenty High Performance (no pun intended) Rugby Team. Check out the video below!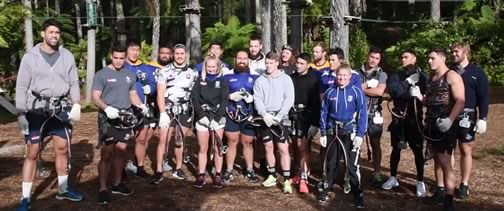 It was awesome to see how the team pushed themselves and supported each other.
Here's some of the feedback we had had from BOP Rugby about their team building experience with us:

"Rob gave me a call yesterday and I couldn't have raved more about the experience the players had on the course.

The players had a fantastic time, instructions were well received once they stopped and listened (worse than kids sometimes), but it was great to see that some absolutely embraced their fear of heights, others were like a duck to water but more importantly they were able to put into to practice what they have been learning over the past couple of weeks and support each other as a team.

Thank you once again for the opportunity, we would love to do it again, perhaps even with our women's team as it is a great experience and we have received plenty of positive feedback from the players."
Yes, we would LOVE to see you again soon!